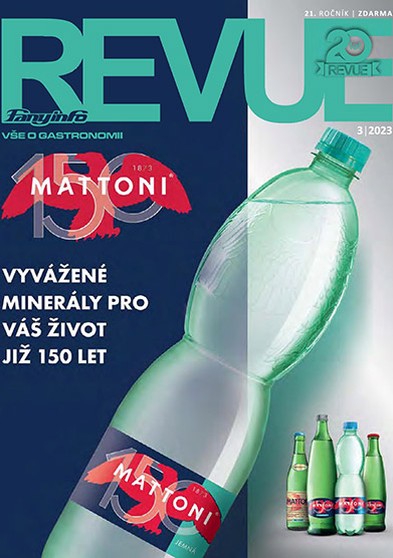 Fany Info REVUE 2023-3
Michal Dlouhý: Zbožňuji grilovaná jídla!
GastroMix: Informace z domova i ze světa
Soutěž: Boj o zlatého Bocuse
Krok za krokem: Kuřecí suprême
Pivoznalství: Rampušák, Dobruška
Více o známém: Melounové hýření
Soutěž: Nejlepší burger z lososa
Téma: Vepřové maso s "rodokmenem"
Baristika: Kalifornie a její kávová rozmanitost II.
FANY Gastroservis: Rozhýbané FANY tipy
Sladké pábení: Sladké prezentace netradičně
Soutěž: Jehněčí nebo vepřové?
Můj názor: David Kalina
Soutěž: GastroHradec jubilejní
Gastronomie v historii: V jeskyni i na planině
Soutěž: o dekanter Areator Spirit
Kalendář: gastronomických akcí

Help to people who need it
10% of the price for advertisement will be donated to charitable trust ETELA. The aim of ETELA is to help children under 18 years old with health or social problems.
Fany Info REVUE combines professional expertise with a readable form and takes a comprehensive look at the gastronomic segment. It introduces new products and services, inspires with culinary ideas from around the world and from our republic, and brings inspirational reports from major international or national competitions.
In each issue, there is both a distinct topical theme and profiles of cook and confectionery celebrities. Expert texts accompanied by illustrative graphics alternate with lightweight materials such as news and news from the gastronomic scene, recipes of modern dishes with visual guide to preparation, wine knowing, experience of our culinary experts abroad, goods knowing about the particular ingredients, baristics, activities of proffesional associations and organizations, non-alcoholic beverages, modern technologies in practice, history of gastronomy, a four-month calendar of gastronomic events and many other inspiring and inspirational articles.
It is published 4 times a year (in January, April, July and October) - it respects gastronomical seasonality.